I was arguing with an unpleasant Asian girl about the state of a room I was in.
girl
: "This place is a terrible mess."
me
: "I don't know if it's a terrible mess."
girl
: "Oh, it's terrible."
me
: "Look, I'm probably more anal about such things than you are in terms of defining when things are properly organized. But trust me, I've seen worse."
I picked up a pamphlet which was talking about the online service Freebase. Someone was saying that they'd used it to track their astrological chart, and done a lot of editing on the astrology articles. The later pages in the booklet were colorful illustrations telling the story of a monk who was consciously looking around him at the various potential "next moments in time", and only choosing the ones to visit that looked most appealing.
An iphone I was holding rang, and I answered it. It was from relatives asking about Keane's Album "Perfect Symmetry", and it was somehow important for them to have a copy.
me
: "This place is a bit disorganized...it could take me a while to find the album, I don' t know where it would be. I can send it to you on the computer."
relative one
: "How is that possible?"
me
: "Just MP3s, they're on a server. I can send you a link and you can download and listen to them. I don't have your email address."
relative one
: "Send it to setuptest.com."
relative two
: "No... it's testsetup.com."
me
:
(frustrated)
"You have to have something in front of that, a word and an 'at' sign. Like name@testsetup.com."
relative two
: "Oh no, we don't need an 'at'. We got the special mormon package."
me
: "That isn't going to work."
A bit of time passed somehow to where they were asking me a question later when they were looking at albums on my server.
relatives
: "Is it the album with the skeleton on the cover?"
me
: "Uh, no. What are you talking about? The cover is a bunch of colored triangles and things."
Looking at the server, I was surprised to see that where the album cover should have been there was a picture that looked a skeleton head.
Note
The skeleton looked a lot like "Achmed the Dead Terrorist", which is a puppet from a comedy act that I don't find remotely comical, yet which has somehow caught on big with the internet: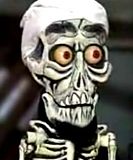 Keane's "official" album cover does have colored triangles and things:
...but who knows what it is like in parallel universes.